[adsenseyu2]
M-1 Challenge 55 kicks-off new season Feb. 21 in Georgia
Event dedicated to memory of Guram Gugenishvili
Watch the M-1 Global – New Season 2015 Events Video via the Global Combat Network
ST. PETERSBURG, Russia (Jan. 5, 2015) -- M-1 Global has announced its 2015 M-1 Challenge schedule of events, kicking-off February 21 with M-1 Challenge 55, dedicated to the memory of M-1 Challenge's first heavyweight champion, Guram Gugenishvili, at Tbilisi, Georgia.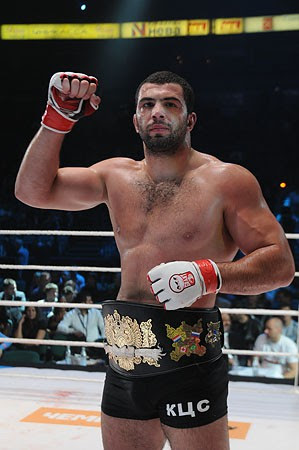 M-1 Global will promote a total of 12 M-1 Challenge events in 2015, including seven in Russia as well as single events in Georgia, Azerbaijan, Kazakhstan, China and Czech Republic.
Gugenishvili (12-2-0, 1 KO/TKO, 10 SUB) died this past November in a car accident.
The 6' 5", 249-pound Gugenishvili was from Tbilisi, Georgia, which was chosen as the site of M-1 Challenge 55 as a tribute to him.
The M-1 Challenge 55 card will soon be announced.
Below find a 2015 M-1 Challenge promotional link about its 2015 season plus a Gugenishvili photo gallery:
https://www.youtube.com/watch?v=eqUEUe3cJiQ&feature=youtu.be
Guram Gugenishvili (L) vs. Kenny Garner
Guram Gugenishvili
Guram Gugenishvili (R) is crowned by M-1 Global promoter
Vadim Finkelchtein as the first M-1 Challenge heavyweight cvhampion
All M-1 Challenge events will be streamed live in high definition onwww.M1Global.TV. Viewers will be able to watch the preliminary fights and main card by logging on to register at www.M1Global.TV. Fans may watch all of the action on their computers, as well as on Andriod and Apple smart phones and tablets.
Fight Network will air M-1 Global live events on Cablevision's Optimum TV, Grande Communications, Shentel Cable and Armstrong Cable in the U.S., as well as nationwide in Canada, as well as on Roku devices across North America, and globally in more than 30 countries throughout Europe, Africa and the Middle East.
Information
Instagram:
@M1Global
@VadimFinkelchteinM1
@M1GlobalNews
Facebook:
www.facebook.com/pages/M-1-Global/145250878842244
[adsenseyu1]
ABOUT M-1 GLOBAL: Founded in 1997, M-1 Global has established itself in the realm of Mixed Martial Arts (MMA) as the premiere entity for discovering and developing the world's next-generation of superstar fighters. With offices in St Petersburg, Amsterdam and Los Angeles and affiliates in Seoul, Tokyo and Paris, the M-1 brand has staged more than 150 events worldwide, including the M-1 Selection, M-1 Challenge and M-1 Global and M-1 Global HWGP events, in addition to co-promoting Strikeforce events and M-1 Global on the Showtime network in the United States. Captivating live, television and broadband audiences with its superior production values and matchups, M-1 Global events have featured some of the sport's top names, including Fedor Emelianenko, Andrei Arlovski, Aleksander Emelianenko, Gegard Mousasi, Alistair Overeem, Keith Jardine, Ben Rothwell, Melvin Manhoef, Roman Zentsov, Yushin Okami, Mike Pyle, Denis Kang, Martin Kampmann, Amar Suloev, Chalid Arrab and Stephan Struve. 2014 promises to be another sensational year of world-class competition with a full calendar of Challenge events fueled by a talent-rich contention system ranking M-1 Global's Champions amongst the greatest in the sport. M-1 Global's greatest asset is renowned heavyweight fighter, Fedor Emelianenko.

ABOUT M-1GLOBAL.TV:  Enjoy MMA action now in high definition brought to you by M-1Global.tv, offering only the best fights from M-1 Global and other MMA organizations. M-1Global.tv is a great platform developed specifically to bring together the most exhaustive fight video database. It also provides an easy and intuitive interface, helping everyone to start using the platform in no time while avoiding any spoilers. Besides watching the past fights on demand at any time convenient to the customer, viewers are able to enjoy the action LIVE, all available to M-1Global.tv users through a low-priced month to month digital subscription.Your world of action. Anytime!
[adsenseyu3]