[adsenseyu1]
M-1 Challenge 72 Weights & Pictures from Moscow
[adsenseyu2]
M-1 Challenge 72 Weights & Pictures from Moscow
OFFICIAL WEIGHTS
MAIN CARD
M-1 CHALLENGE WELTERWEIGHT CHAMPIONSHIP - 5 X 5
ALEXEY KUCHENKO
(14-0-0, M-1: 6-0-0), Champion, Russia 168 lbs. (76.5 kg)
MURAD "Hunter" ABDULAEV
(15-4-0, M-1: 3-2-0), Challenger, Russia 168 lbs. (76.3 kg)
MIDDLEWEIGHTS - 3 X 5  

ARTEM FROLOV
(7-0-0, M-1: 4-0-0), Russia 184 ½ lbs. (83.9 kg)
LUIGI "The Italian Tank" FIORAVANTI
(26-14-0, M-1: 4-3-0), USA 184 ½ lbs. (83.9 kg)
KRISTIJAN "Pacman" PERAK
(9-3-1, M-1: 0-2-1), Croatia 184 ½ lbs. (83.9 kg)
TALEKH "The Azerbaijan Terminator" NADZHAFZADE
(4-1-0, M-1: 2-0-0), Azerbaijan 184 ½ lbs. (83.9 kg)
ARTIOM DAMKOVSKY
(21-10-0, M-1: 11-7-0), Belarus 154 lbs. (70.1 kg)
ALEXEY "Ataman" MAKHNO
(13-4-0, M-1: 3-1-0), Russia 154 ½ lbs. (70.3 kg)
DAMIR ISMAGULOV
(8-2-0, M-1: 4-1-0), Russia by way of Kazakhstan, 159 lbs. (72.4 kg)
RUBENILTON "Rubinho" PEREIRA
(16-3-0, M-1: 0-1-0), Brazil 160 lbs. (72.9 kg)
PRELIMINARY CARD
LIGHT HEAVYWEIGHTS - 3 X 5
ARTUR TYULPAROV
(pro debut), Russia 204 lbs. (92.6 kg)
MICAL KOTALIK
(2-0-0, M-1: 0-0-0), Czech Republic 204 lbs. (92.6 kg)
DANILA PRIKAZA
(4-1-1, M-1: 2-1-0), Russia, 168 lbs. (76.5 kg)
IVICA "Terror" TRUSCEK
(31-27-0, M-1: 0-3-0) 167 lbs. (75.8 kg)
ADAM BAKAEV
(0-1-0, M-1: 0-0-0), Russia 169 lbs. (76.9 kg)
MAKSIM "Mad Max" MELNIK
(2-2-0, M-1: 0-0-0) 168 lbs. (76.5 kg)
TIMOR NAGIBIN
(7-2-0, M-1: 3-1-0), Russia 147 ½ lbs. (67.1 kg)
KURBANALI ABDUSALAMOV
(6-2-0, M-1: 4-0-0), Russia 147 ½ lbs. (67.1 kg)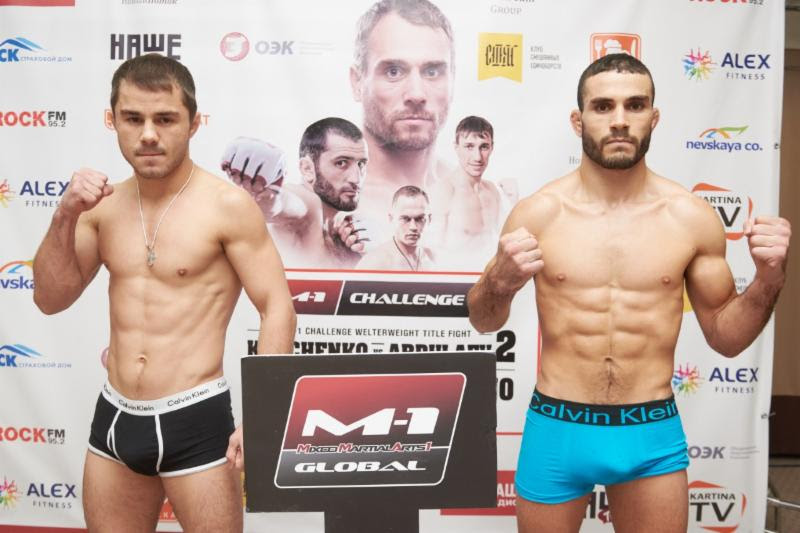 ALEXEY NAUMOV
(12-4-0, M-1: 1-2-0), Ukraine, 135 lbs. (61.3 kg)
MOKTAR "Le Kabyle" BENKACI
(11-6-0, M-1: 1-1-0), France, 135 ½ lbs. (61.6 kg)
BAIR SHTEPIN
(3-1-0, M-1: 0-1-0), Russia 137 lbs. (62.5 kg)
ALEXSANDR LUNGA
(8-8-0, M-1: 0-0-0), Ukraine 139 lbs. (63.1 kg)
WHEN:        

Friday, November 18, 2016
WHERE:       Moscow, Russia
PROMOTER:  M-1 Global
Twitter & Instagram:

@M1GlobalNews
Facebook:
ABOUT M-1 GLOBAL:
Founded in 1997, M-1 Global has established itself in Mixed Martial Arts (MMA) as the premier entity for discovering and developing the world's next-generation of superstar fighters. With its office in St Petersburg, Russia, the M-1 brand has staged more than 160 events worldwide, including M-1 Selection, M-1 Challenge, M-1 Global and M-1 Global HWGP events, in addition to co-promoting Strikeforce events and M-1 Global on the U.S. network, Showtime. Captivating live, television and broadband audiences with its superior production values and match-ups, M-1 Global events have featured some of the sport's top names, including legendary heavyweight Fedor Emelianenko, Andrei Arlovski, Gegard Mousasi, Alistair Overeem, Keith Jardine, Ben Rothwell, Melvin Manhoef, Sergei Kharitonov, Aleksander Emelianenko, Roman Zentsov, Yushin Okami, Mike Pyle, Denis Kang, Martin Kampmann, Amar Suloev, Chalid Arrab and Stephan Struve. 2016 has been another sensational year of world-class competition, featuring a full calendar of Challenge events, fueled by a talent-rich contention system ranking M-1 Global Champions among the greatest fighters in the sport.
ABOUT M-1GLOBAL.TV
: 
Enjoy MMA action now in high definition brought to you by M-1Global.tv, offering only the best fights from M-1 Global and other MMA organizations. M-1Global.tv is a great platform developed specifically to bring together the most exhaustive fight video database.  It also provides an easy and intuitive interface, helping everyone to start using the platform in no time while avoiding any spoilers.  Besides watching the past fights on demand at any time convenient to the customer, viewers are able to enjoy the action LIVE, all available to M-1Global.tv users through a low-priced month to month digital subscription. Your world of action. Anytime!
[adsenseyu4]