[adsenseyu1]
M-1 Challenge Middleweight Champion Ramazan Emeev vs. Anatoly Tokov to Headline M-1 Challenge 73: Battle of Narts
[adsenseyu2]
M-1 Challenge Middleweight Champion Ramazan Emeev vs. Anatoly Tokov to Headline M-1 Challenge 73: Battle of Narts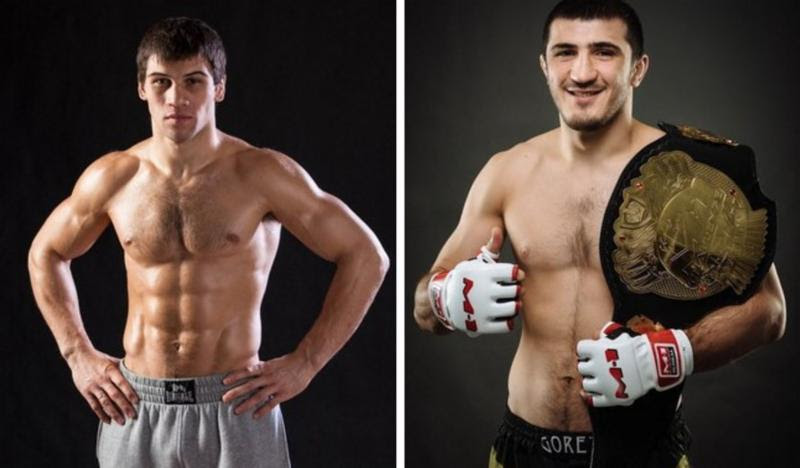 (L-R) - Anatoly Tokov and Ramazan Emeev
ST. PETERSBURG, Russia (
October 13, 2016
) - M-1 Global has announced a super showdown between M-1 Challenge middleweight champion
Ramazan Emeev
and knockout artist
Anatoly Tokov
to headline the
December 9th
M-1 Challenge 73
:
Battle of Narts
in Ingushetia, Russia.
M-1 Challenge 73
will be streamed live from Ingushetia in high definition on
www.M1Global.TV
. Viewers will be able to watch the preliminary fights and main card by logging on to register at
www.M1Global.TV
. Fans may watch all of the action on their computers, as well as on Android and Apple smart phones and tablets.
"The fight between Ramazan Emeev and Anatoly Tokov is the most anticipated fight in Russian MMA, "M-1 Global president Vadim Finkelchtein said. "Both Tokov and Emeev are fighters of the elite level, not only in Russia, but in the world.  This fight is being held to achieve our main goal: to make the most spectacular match-ups between the strongest MMA fighters of our time."
Emeev (14-3-0, M-1: 8-1-0), who was the M-1 Global 2015 Fighter of the Year, returns to action after suffering a torn ligament in his elbow, which forced the Azerbaijan native to withdraw from his scheduled M-1 Grand Prix Middleweight Championship fight withAlexander Shlemenko.
The 29-year-old Emeev, fighting out of Makhachkala, Russia, first captured the vacant M-1 Challenge middleweight title in 2012, taking a 5-round unanimous decision from
Mario Miranda
at
M-1 Challenge 35
, and he successfully won the rematch
five months later
at
M-1 Challenge 38
, stopping Miranda via strikes in the third round.
In 2014, Emeev lost his title belt to Vyacheslav Vasilevsky by way of a fourth-round knockout (punches) at M-1 Challenge 51 in 2014.  The resilient Emeev, however, bounced back to regain his throne as M-1 Challenge middleweight champion, using a choke hold to submit Vasilevsky in the opening round at
M-1 Challenge 56.
Emeev has successfully defended his title against Luigi Fioravanti, who was unable to continue after four rounds at M-1 Challenge 63, and this past April Emeev defeated Brazilian Maiquel Falcao (see picture above) at M-1 Challenge 65 in the first round by submission (choke).
Tokov (24-2-0, M-1: 9-1-0), 26, is a former ABC champion who fights out of Stary Oskol, Russia. He is riding a 17-fight win streak, including knockouts of Enoc Solves Torres at M-1 Challenge 54 and Albert Duraev at M-1 Challenge 46.
A feared striker with tremendous power, Tokov has stopped 14 of his 24 victims to date, resulting in him developing into one of MMA's most spectacular fighters and a true rising MMA star throughout Russia and Europe.
Tokov can give and take
Information
Twitter & Instagram:
@M1GlobalNews
@VFinkelchtein
@M1Global
Facebook:
ABOUT M-1 GLOBAL: Founded in 1997, M-1 Global has established itself in Mixed Martial Arts (MMA) as the premier entity for discovering and developing the world's next-generation of superstar fighters. With its office in St Petersburg, Russia, the M-1 brand has staged more than 160 events worldwide, including M-1 Selection, M-1 Challenge, M-1 Global and M-1 Global HWGP events, in addition to co-promoting Strikeforce events and M-1 Global on the U.S. network, Showtime. Captivating live, television and broadband audiences with its superior production values and match-ups, M-1 Global events have featured some of the sport's top names, including legendary heavyweight Fedor Emelianenko, Andrei Arlovski, Gegard Mousasi, Alistair Overeem, Keith Jardine, Ben Rothwell, Melvin Manhoef, Sergei Kharitonov, Aleksander Emelianenko, Roman Zentsov, Yushin Okami, Mike Pyle, Denis Kang, Martin Kampmann, Amar Suloev, Chalid Arrab and Stephan Struve. 2016 has been another sensational year of world-class competition, featuring a full calendar of Challenge events, fueled by a talent-rich contention system ranking M-1 Global Champions among the greatest fighters in the sport.
ABOUT M-1GLOBAL.TV
:  Enjoy MMA action now in high definition brought to you by M-1Global.tv, offering only the best fights from M-1 Global and other MMA organizations. M-1Global.tv is a great platform developed specifically to bring together the most exhaustive fight video database.  It also provides an easy and intuitive interface, helping everyone to start using the platform in no time while avoiding any spoilers.  Besides watching the past fights on demand at any time convenient to the customer, viewers are able to enjoy the action LIVE, all available to M-1Global.tv users through a low-priced month to month digital subscription.
Your world of action. Anytime!
[adsenseyu4]